Bangkok's Buzzing Food Scene
Thailand's culinary scene has exploded since the entrance of the Michelin Guide in December of 2017. I was lucky enough to be working at the Anantara Siam Hotel in downtown Bangkok at the time and the city was buzzing, we had a Christmas Tree lighting ceremony with HRH Princess Soamsawali on the same night and it was such a struggle trying to invite VIPs to our event as everyone wanted in on the Michelin unveil. The guide is really aimed at recognizing trendy restaurants and cuisines for the large and ever growing affluent Thai market. We have access to most types of cuisines here in the US, and I don't recommend travelling to Bangkok to eat Italian, so here's my top picks for the Thai Michelin restaurants.
Having lived in Thailand for 10 years, I felt that towards the end of my time I was getting more and more bored with Thai food. For lunch I was going for my staple Phad Khra Pao Gai (Spicy Sweet Basil with Chicken) with an egg on top of rice. Occasionally, when my wife and I would eat out we would be super adventurous and go for a Green Curry with beef instead of pork or chicken. Things were getting boring for me and all of my friends back stateside would always have this picture in their heads that I was walking through exotic markets and trying different food stalls everyday, couldn't have been further from the truth!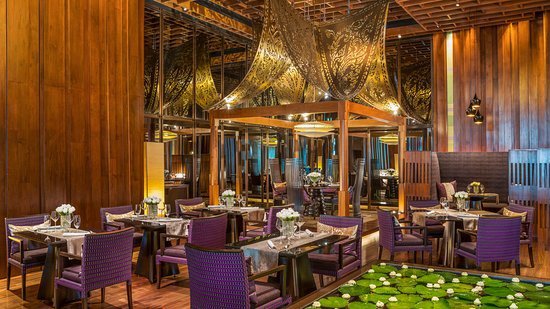 Sra Bua by Kiin Kiin
 The boring really went out one night when I had the chance to eat at Sra Bua by Kiin Kiin (1 Michelin Star) at the Siam Kempinski Hotel. It was 5 minute skytrain ride from where I worked and it ticked of the boxes in terms of something new and easy to get to. The Thai food here was very different from anything I have ever had, it is Thai but with a modern touch bordering on molecular. I used to think it was a travesty that there were no Thai chefs with Michelin stars even overseas, but Chef Henrik Yde-Andersen from Denmark changed my opinion on that. The menu uses top quality ingredients: Seafood from Japan, Beef from Australia and French Foie Gras combined with the freshest Thai herbs and spices. This is not your traditional menu either so definitely recommend taking the set menu, if you go in and try to find your favorites like Phad Thai and Tom Yung Kung you will be searching for a long time. The meal was really a treat in a great atmosphere combined with amazing plate presentation, you'll really be blown away. So if you are looking to try something different and splurge for a nice night out, this is the place.
The beauty of the Michelin Guide is you have a whole range from the super high end - celebrate your anniversary type places to old school Thai street food.  I was a bit hesitant to try Jay Fai (1 Michelin Star) at first as it is in the middle of nowhere, according to me, as I hate traffic and if there is no BTS (Skytrain) then it might as well be in another province. Located at the Samran Rat Intersection this restaurant might as well be a scene out of a Bangkok movie, crowded, flaming woks, noise, smells and everything else you would expect. This is what my friends back home thought I was eating like every night. The lines can be super long and you can easily get frustrated by what you can easily categorize as inefficiency. You'll notice an older Thai lady with strange goggles cooking away and that is the Crab Omelet Queen herself "Jay Fai", all things run through her, she cooks everything, and it is worth the wait. They have expanded the menu over the years, but don't waste your time and order the crab omelet, it's the money maker and she uses her father's recipe and technique which is now 70+ years old. It's a bucket list item for sure and a great place to go if you want to be casual and see what a real buzzing street food atmosphere is all about.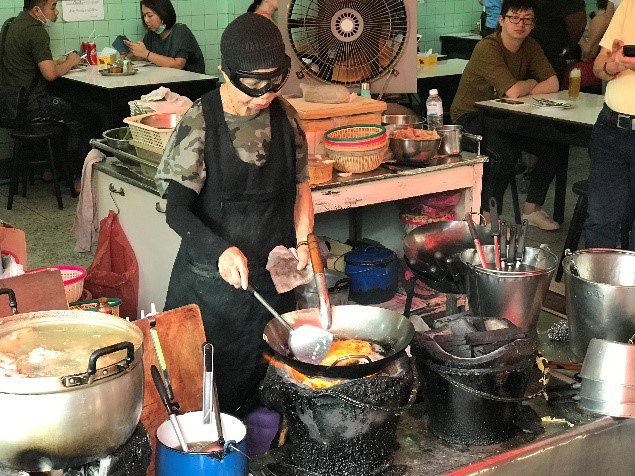 Jay Fai
Last, but not least, if you are a looking for a nice romantic atmosphere and traditional Thai food with a royal twist, then Bo.Lan (1 Michelin Star) on Sukhumvit 53 is the place. I prefer this place over Nahm any day and the food is great, the ingredients are fresh and the two Executive Chefs are super passionate and are always in house. The word BoLan comes from a play on the chef's last names, but it also means "Historical" with the menu items drawing inspiration from the old Royal Court of Siam. Here you will find what we would call unique twists on classic Thai dishes, but they are actually the real deal, the way they were prepared early on. This is especially true in all the curries and sauces, you'll notice less sugar and much more vibrant flavors. They have also evolved over the years to source ingredients locally while becoming very environmentally focused in their procurement. Overall a great restaurant with classic Thai food in a very quiet and romantic setting.